Make a good impression by showing your work at its best!
Do you have a show submission coming up, or need to create art cards and prints? Are you preparing your portfolio or looking to promote your artwork online? I can create finest quality scans and photos of your original 2-dimensional artwork. As a working artist and designer I know the needs of both the artist and the print business.
Here is a real-world example comparing an artist's own photograph of her artwork and the results I was able to provide when better quality was required to make art cards and prints. First, the artist's photo: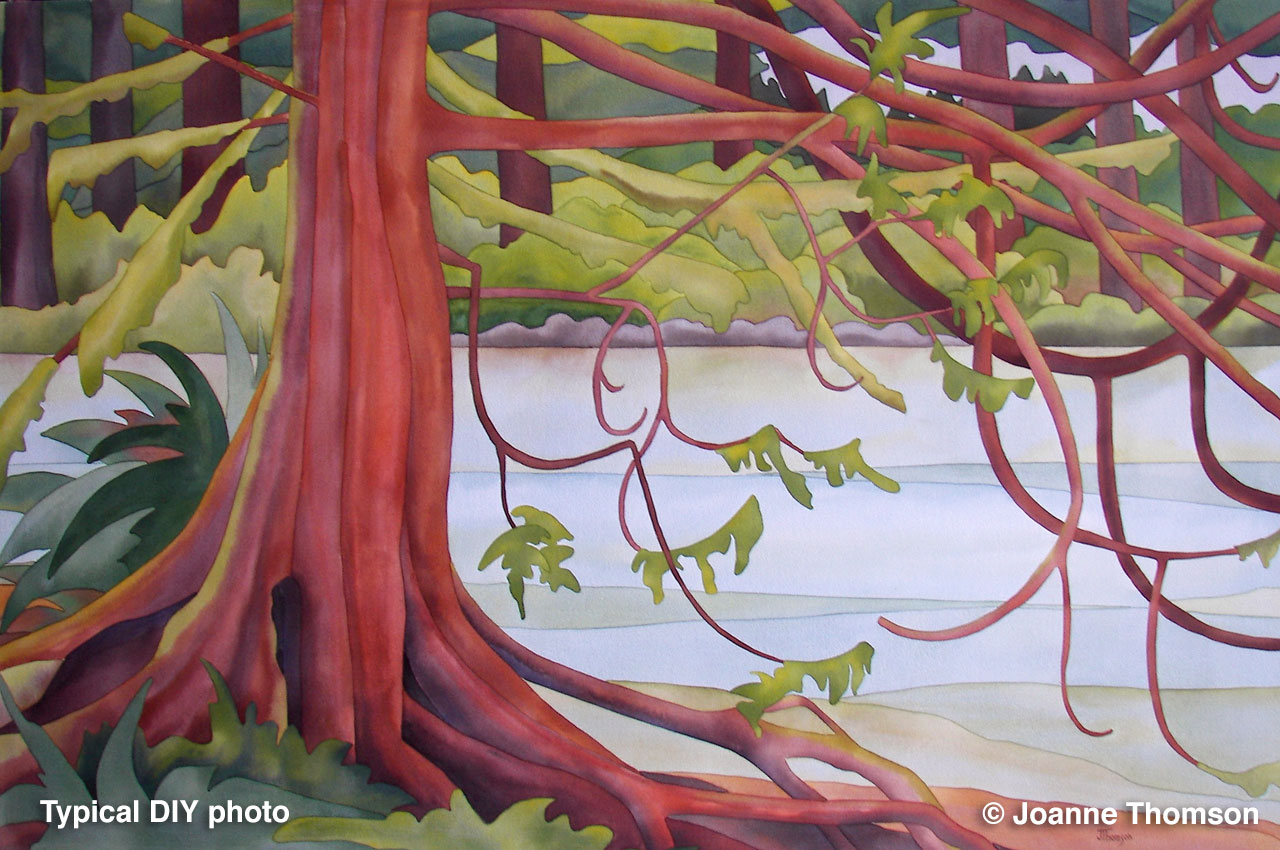 It's not a terrible photo, but it was taken with a compact digital camera under typical lighting conditions. The colours are not quite right, and it would be difficult to correct them to match the original. The image is slightly distorted and blurry in places because of the limitations of the camera's tiny lens and sensor. Below is the photograph I took, with accurate color rendition, low image distortion, and much higher resolution: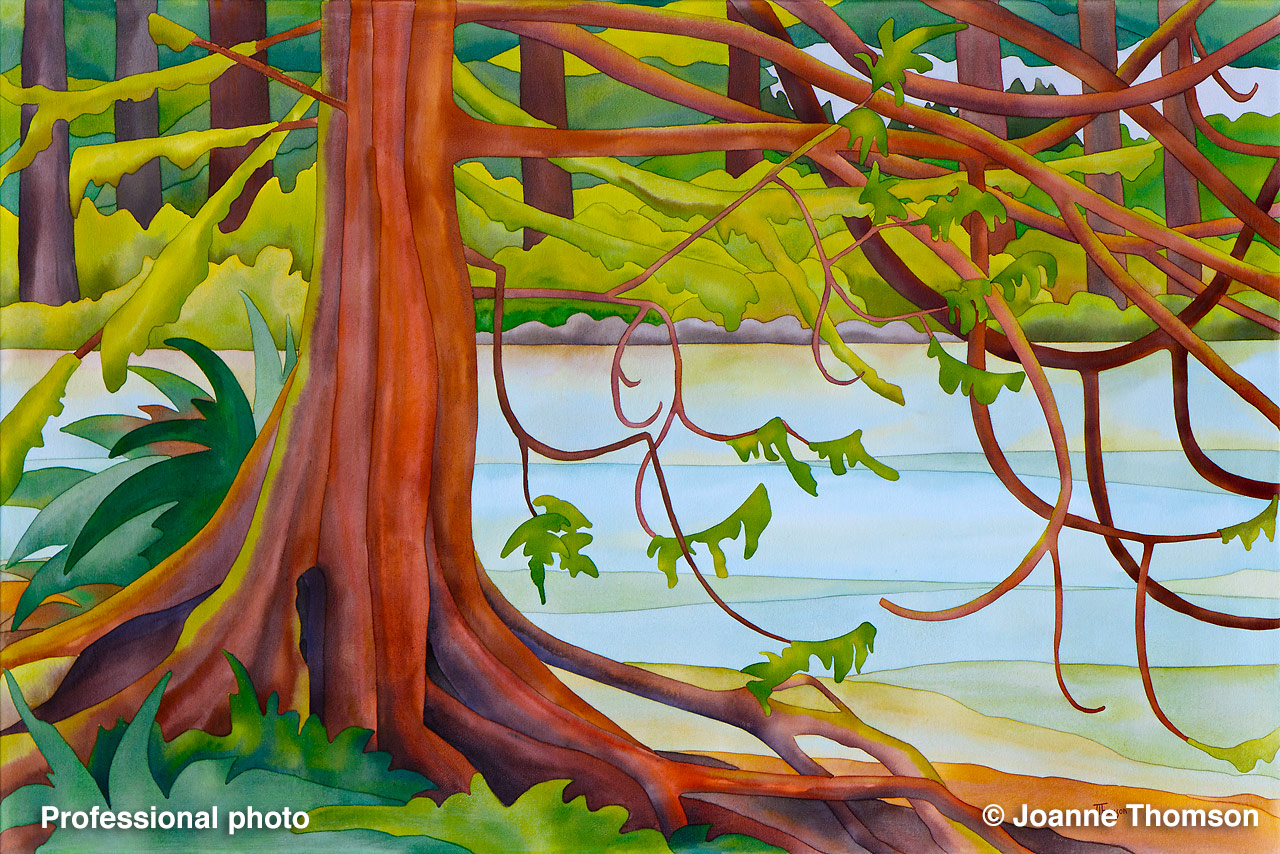 Close up, the difference is dramatic: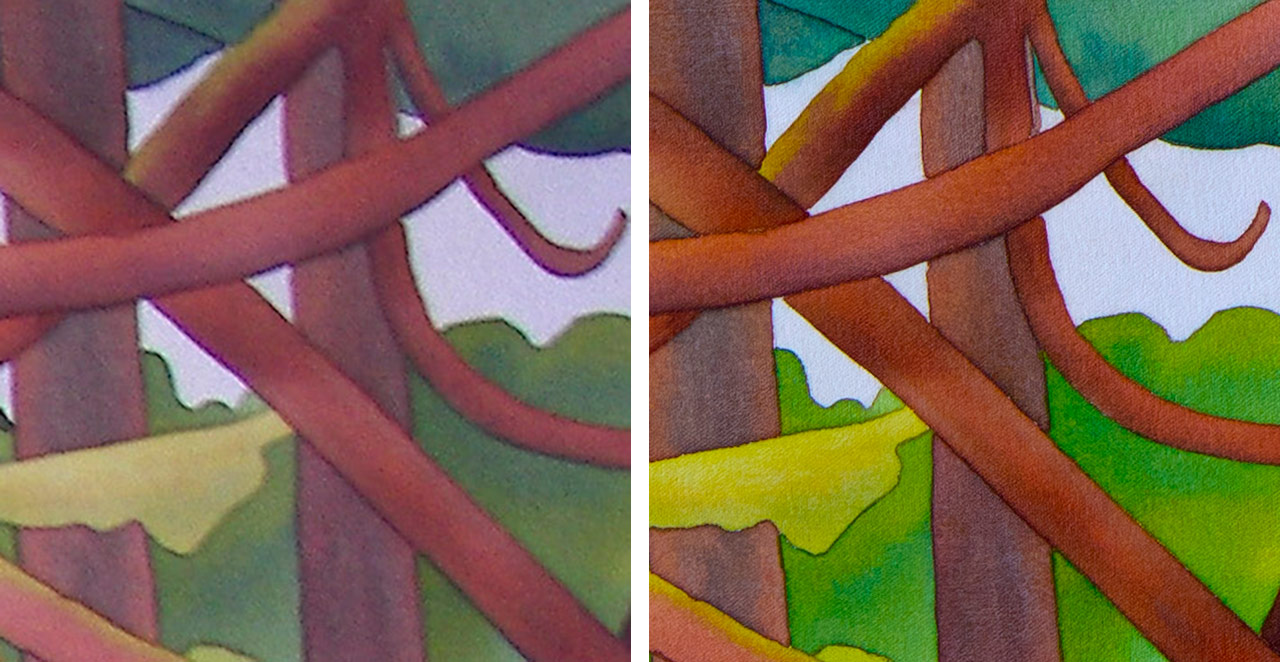 The artist's own photo is on the left, my photo on the right (and reduced in size to match). See how much better this beautiful art looks now? A high-quality reproduction does your work the justice it deserves and will help you sell that card, get that commission or have your piece accepted into that show! My colleague Joanne Thomson showed good judgement when she hired me to photograph her work, as this is one of her best-selling cards. I like to think I helped a little with that.
Some works may be challenging to photograph or scan, especially those which are highly textured or varnished to a high gloss. For both photographs of work on canvas and scans of work on paper, I have developed techniques to mitigate glare and unwanted texture artifacts. It is also possible to scan or photograph larger works in sections and stitch them together if you require large, high-resolution reproductions.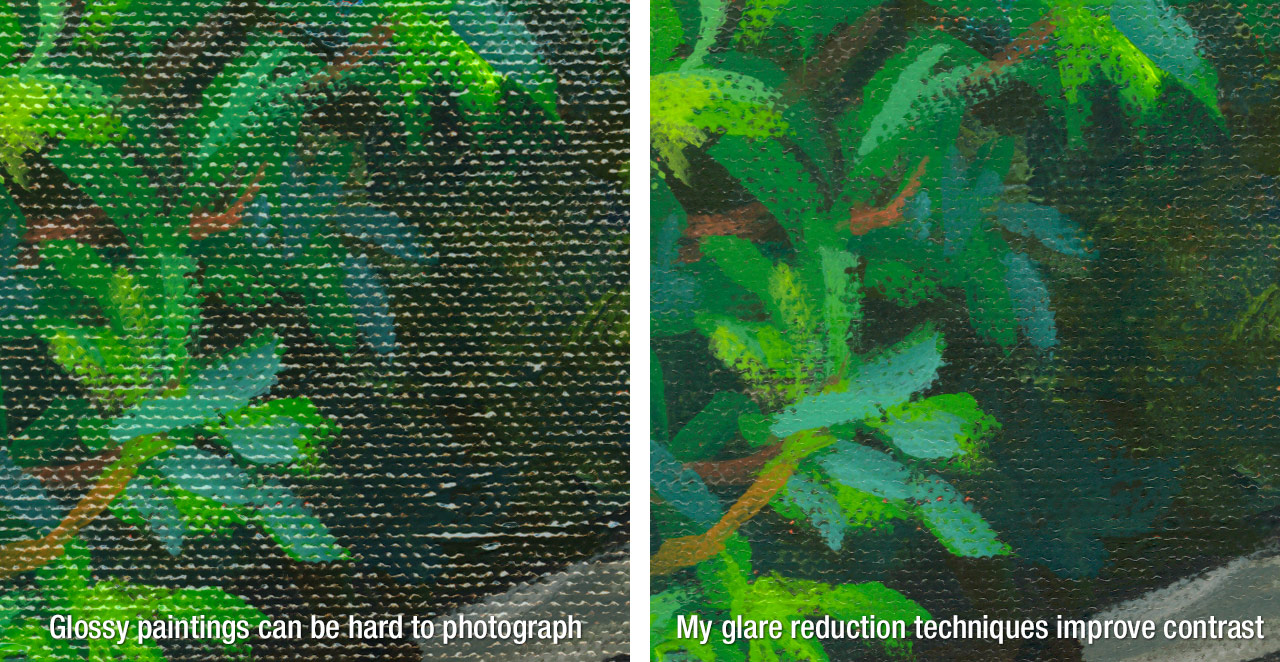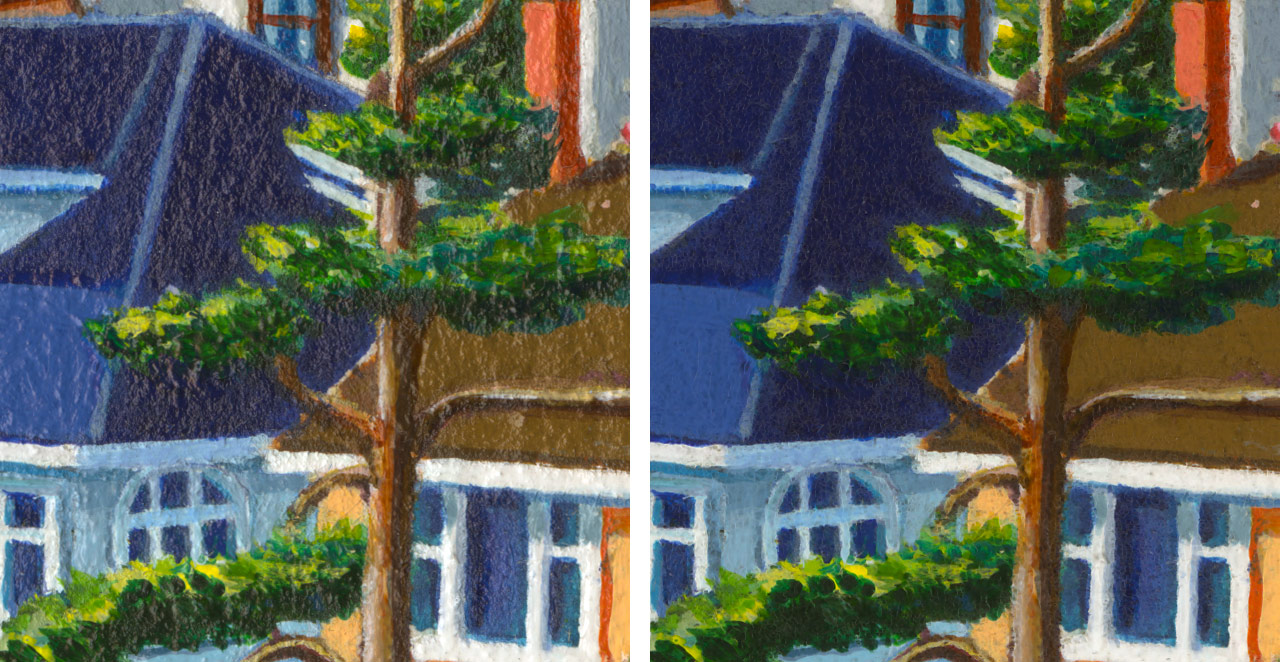 Price List
SCANS (small works)
Unframed, flat artwork up to 12″ × 17″
• 300 dpi B&W line art – $15
• 300 dpi colour – $30
• 600 dpi colour – $40
PHOTOS (large works)
Paintings of any size, and 3D works up to 36″ × 36″ × 36″ will result in about 15 to 23 megapixels ("standard resolution") depending on the proportions of your image. Artwork must be unframed.
• $40 for each piece (or per selected final photo of 3D work), standard resolution.
• $60 and up for paintings photographed at extra high resolution. (This is for full-size reproduction of large pieces. Artwork is photographed in several sections and stitched together, resulting in one very large file.)
• Line art and blemish cleanup, converting hand-drawn art to Adobe Illustrator format (vectorization): $75 per hour
Images can be delivered on a thumb drive that you provide at time of artwork drop-off, or via internet download service such as WeTransfer. What you'll get:
• A small JPEG for web/social media/email use
• A full-resolution JPEG for printing
• A full-resolution TIFF for publishing (on request — large file!)
More specific requirements can be met, just let me know.
You retain all copyrights to the images.
Kudos from customers
"Thank you so much for your awesome job and expertise in scanning my original painting for my upcoming art prints series on canvas. Gonzales Bay looks so good at 26.5 x 36″. Great colours and wonderful detail." — Barb Weaver
"I picked up the banners yesterday — they're spectacular, truly. They knocked me out! I can't thank you enough for your creativity on this project. It was a lot of fun working with you." — Aliza Allen
"You have done a great job with such a challenging task! Thank you, without your help this project wouldn't be a success." — Aliza Souleyeva-Alexander
"I want to thank you for all the extra work & time you put into helping my business become more successful. You really are the guy to know! People have asked who does my beautiful photography!" — Debbie Bernier
Email me using the form below if you would like to discuss what I can do for you. (The password is artists.) Or call my landline at 250-704-0011.